Established Local Building Company
When you choose to work with Heartlands Building Company, you know, without a doubt you are working with an established, award winning and reputable local company with a record of quality homes and additions throughout the St. Louis metropolitan area. We have worked with owners of some of the region's finest homes to enhance their properties. We look forward to working with you.
For a preview of how Heartlands custom home additions and outdoor living can enhance your home, visit our photo gallery of projects designed and built by Heartlands.
To arrange a free in-home consultation on a design and build project, send us an email or call the showroom office at 636-728-0003.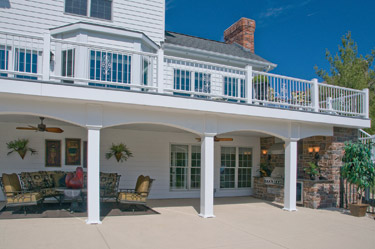 Your Home Deserves Unmatched Craftsmanship and Attention to Detail.
Heartlands provides you with an unmatched level of structural craftsmanship and attention to detail. This has earned the loyalty of our customers, who refer us to others and contact us for their next project. The team at Heartlands includes professionally trained carpenters, engineers, and field and office support who combine to offer a seamless design and build experience.
From new homes to screen room additions and home renovations, we tell our customers to set their expectations high and we will meet them! You will experience our commitment to excellence and customer service from your very first visit through the completion of your dream space. We prove that home building and renovation can be a truly pleasant and rewarding experience.
Our projects have been featured in the Lifestyle magazine of the St. Louis Post-Dispatch and The Knoxville Magazine; received awards from the National Association of the Remodeling Industry ("NARI"); and been selected for tours by members of the St. Louis Home Builders Association.
We are accredited member in good standing of the St. Louis Home Builders Association. We are also an A+ rated member of the Better Business Bureau and have earned favorable comments from customers on various social media sites.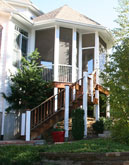 NARI
Greater St. Louis Remodeling Award for Best Exterior Remodel over $25K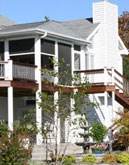 NARI
Contractor of the Year for St. Louis Region
Best of Houzz | Design | 3 Years in a Row
Heartlands was awarded "Best Of Houzz" for Design by Houzz, the leading platform for home remodeling and design. We were chosen by the more than 25 million monthly unique users that comprise the Houzz community from among more than 500,000 active home building, remodeling and design industry professionals.
The Best Of Houzz award is given in two categories: Design and Customer Satisfaction. Design award winners' work was the most popular among the more than 25 million monthly users on Houzz, known as "Houzzers.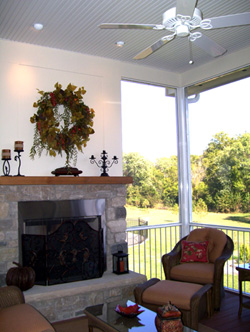 Heartlands Building Company originally started as a specialty builder, designing and developing screen rooms, outdoor spaces and retractable screen doors. We offer high-quality, customized versions of these products which are not otherwise available in the marketplace. This service is still the core of our business.
To give our clients the utmost quality, our business evolved to include the design and manufacture of selected products to enhance your experience of the great outdoors. This portfolio of unique products and The Screen Team®, consisting of individual members of the overall team at Heartlands, enables us to provide a truly custom product designed to be all about you and your family.
Your enjoyment of the great outdoors will be enhanced by the complete line of products offered by The Screen Team® at Heartlands. From retractable screen doors, decking and railing, and fixed screen systems to an elaborate outdoor cooking area and remote-controlled solar screens, we have assembled an offering of products and services that is designed to make your outdoor experience as exciting and luxurious as the rest of your lifestyle and environment. Our products are available directly through Heartlands or through your builder or contractor.
Our photo gallery provides a selection of past projects, each individually designed and built by Heartlands.
For a free in-home consultation on any design and build project whether a screen room, custom build or addition, or to schedule an appointment to visit our showroom, please contact us or call us at 636-728-0003.
Discover the Heartlands experience and you'll know why we are clearly the best.