Heartlands extends our passion to the design and building of an addition or improvement to your home. As a single source residential design and build company, we are available to build your dream home, addition or to undertake major renovations ranging from a new kitchen or bath to a wine cellar or the finishing of the lower level of your home.
When you know your home is perfect – if it only had more space – Heartlands is your solution. You can live comfortably in your home while the highly experienced Heartlands' team completes the required transformation.
Whether it is adding a room, expanding your living space, enhancing your interior layout, or constructing a studio or guest house, you achieve the home of your dreams without leaving your current home and neighborhood.
Whatever you envision, Heartlands' skilled team has the experience to handle the entire construction project. From the initial design meetings to the completion of your custom built home, addition, or renovation, you will be impressed by Heartlands' expertise. As a final touch, we ensure the building site is spotless before you invite your first guests to enjoy your new space. As an established business, we have over 1,800 satisfied clients from the work we've done over the past two decades enhancing the finest homes in the St. Louis Metropolitan Area.
Make your current house your dream home with help from Heartlands or build your dream house from the ground up. In the real estate industry, they say it's all about location. In building your dream home it starts with location but quickly becomes all about design and value. As a design build company, custom is our standard.
When you've acquired your perfect property, you want to make sure the home constructed on that property meets your high standards. Heartlands has designed and built upscale homes and completed additions for many of the finest homes in the St. Louis Metropolitan Area.
Founded on the premise of delivering high-quality, individually designed screen rooms and outdoor living areas, Heartlands has expanded to building custom homes and additions to meet the demand from customers.
"We've always approached building screen rooms with the same care and expertise of a high-quality home builder," said Heartlands president and co-owner Larry Brost. "Our screen rooms are architecturally designed and built to the same standards as your home, and it was a logical move to help our clients in the design and development of their dream home or structural home addition."
With the proven excellence of Heartlands' team of professionals, clients can now enjoy Heartlands' craftsmanship in a home build, major renovation, or home addition.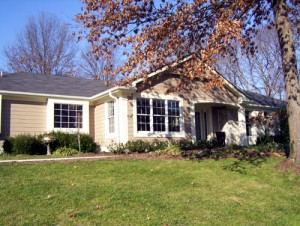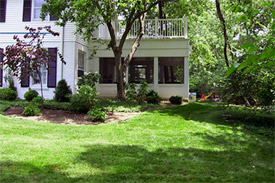 Heartlands is an established local company with a proven record of designing and constructing high-quality homes and home additions. We work with homeowners to determine what they need, design an addition or custom build that blends perfectly with their existing home, and complete the project as designed and within the stated budget.
The experience and craftsmanship of our professional building team is your guarantee of quality work. We will work closely with you, handle all necessary permits, and arrange all required inspections. During most renovations, you will be able to stay in your home while the renovation is underway. Read an overview of our building process.
Ready to expand but not ready to move? Visit our photo gallery of Heartlands projects.
When you love your home and your neighborhood but have outgrown your existing space, a home addition is a less expensive and less stressful alternative to moving. A well-planned and designed addition allows you to remain in your home, enjoy your familiar neighborhood, and enhance the value and livability of your property.
With the skilled help of Heartlands, anything is possible.
Transform your three bedroom into a five bedroom with en-suite baths.
Add a grand entry or a vaulted great room.
Install a home theater or exercise facility.
Add a workshop or craft area to accommodate new hobbies.
Accommodate relatives by adding a separate suite.
Discover how Heartlands can save you time and money with a quality addition or new home. For a free in-home consultation, contact us, or call 636-728-0003.