The elevated outdoor rooms Heartlands designs and builds often include decking and railing. We distribute and promote selected vinyl, composite and wood decking and railing products that meet our high quality standards, structural requirements and product warranties. These include the following well-established products:
Timbertech decking and railing
Gossen decking and railing
Westbury aluminum railing
GEO decking and railing
Fiberon decking and railing
Trex Decking and railing
The market provides so many choices today on decking and railing that it can get very confusing. To sort out what works best for your planned use and environment, please let Heartlands assist in your decision. We can explain why we have selected these products for distribution.
For a natural wood product for decking and railing, we continue to utilize the Tiger Decking species of Brazilian Hardwood. Tiger Decking is a very dense, insect and rot resistant wood product, with the longevity of the best composite decking products in the market today.
Tiger Decking can be oiled on a regular basis or you can allow the wood to adjust to your environment. You can purchase Ipe oil at Heartlands showroom. Please visit our showroom and compare the benefits of Tiger Decking to other wood products. Of course, if you prefer traditional cedar, we offer that too.
All of our decking and railing products are available on an installed and non-installed basis.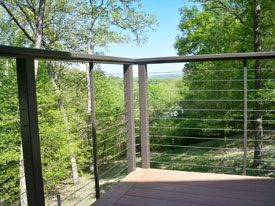 Cable rail is the perfect solution for those who love their view.
Attention is given to detail.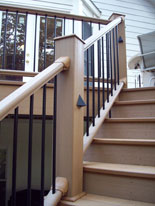 You are welcome to mix and match brands and colors of decking and railing to create the deck that fits your style and preferences.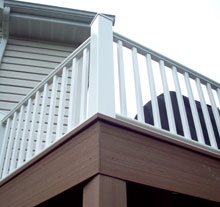 Check our corners, edges and joins to see the difference.
Ipe Oil™
Ipe Oil™ Hardwood Deck Finish is an oil-based natural wood finish. It is specifically formulated to protect and preserve the natural beauty of exterior hardwood decks. Ipe Oil™ Hardwood Deck Finish provides excellent penetration of even the densest hardwoods with minimal raising of the grain.
It protects and conditions the wood while maintaining a completely natural appearance. For exceptional results on Ipe, Tigerwood, Cumaru and other exotic hardwoods,
Ipe Oil™ is the best solution.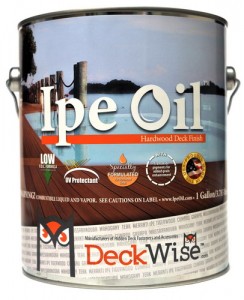 Ipe Clip Deck Fasteners
Heartlands is a dealer for all Deckwise products including cleaners, brightener, end grain sealer, Ipe Clip deck fasteners and screws.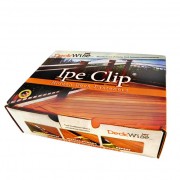 Corte-Clean
Corte-Clean composite deck cleaner is eco responsible, biodegradable and contains no chlorine bleach or toxic smell. Corte-Clean safely cleans all common stains, mold & mildew stains, grease, oil, rust, and barbecue spots. It is non-corrosive to structural decking material and is proven and recommended by major composite manufacturers.