Retractable Screen Wall Systems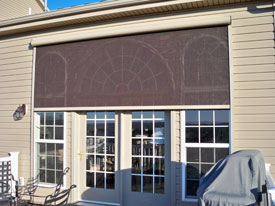 Heartlands is distributor for Talius Habitat Screens™ and Universal MotionScreens which offer quality solar protection.
These screens block the sun but not your view. Like sunglasses for your home, they provide superior solar protection preventing UV damage and optimizing comfort and privacy without obstructing your view.
Retractable screen walls are the perfect solution for your deck, patio or even garage. Enhance your outdoor lifestyle with a spa enclosure or screen room with retractable screen walls. Retractable wall screens are available with a manually operated crank or in most cases, electronically operated with a remote control. Anywhere you want privacy, insect-free comfort and cooling shade, wall screens are the answer.