Are bugs keeping you in and away from enjoying the great outdoors?
Heartlands is pleased to provide the same great quality products we put in each of our custom screen rooms directly to you or your contractor on an installed or non-installed basis.
Heartlands patent pending screen room system which integrates a fully tested guard rail and related connections meets the most stringent building code requirements for fall protection.
This screen system goes beyond the competitors roll formed economical 1" by 1" pre-finished tube. While the 1" by 1" rolled formed tube is commercially available and used by Heartlands on an exception basis, our standard is extruded aluminum channels and columns are custom finished to your color selection on a project-by-project basis.
We learned early on the factory paint finish acceptable to our competitors did not meet our quality standards and what our customers truly want; and, in many cases, necessary color choices were not available. The stronger system — powder coated paint finish job by job, flat vs. round spline — and our standard and more durable "pool and patio" screen mesh supports Heartlands' contention that we are clearly the best.
Heartlands offers an option for a picket rail system integrated and built into our extruded upper and lower screen railing components. The round pickets are installed on 4" centers to at least building code standards and at your desired height. For new construction, an integrated rail system is normally more economical than a separate railing system.
In addition, the integrated system provides a clean, finished look and is also available in any one of hundreds of colors. Unlike the competition, Heartlands pickets are extruded aluminum vs. the competitors' lower-cost rolled and bent pickets. We encourage you to compare!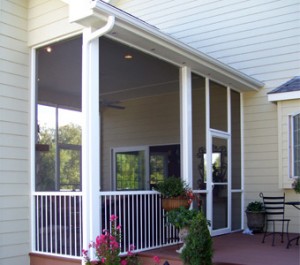 Compare Heartlands' quality to the competition.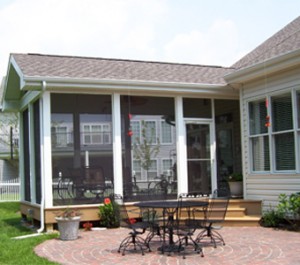 We work closely with homeowners, architects, builders and contractors to design a screen enclosure that fits the customer's needs based on their exposure to the sun, privacy requirements and security issues. Whether the design includes arched tops, brick columns, recessed areas for the screen channels or individual screen sections in excess of 20' wide, we have done it all. In addition, we introduced retractable screen systems for outdoor living areas back when the competition said it could not be done! Today, they are trying to catch up.
If the budget allows, please consider a fully retractable screen room. Heartlands has designed and installed retractable screen rooms on many of the finest homes in the St. Louis area and has been contracted to provide design, product and installation support for projects in Arkansas, Illinois, Kansas, Missouri, Oklahoma and Tennessee.
We install — building each system on-site — in a manner to minimize disruption to you and other subcontractors, if any.
Our manufacturing facility is utilized to stage and prepare each screen room for installation. While our competitors fabricate their panels in their factory and make them fit at your home with additional receiving channels and hundreds of exposed screws, we service the homeowner and high-end contractors who appreciate our onsite custom framing to exact sizes.
In addition, our screen system is designed to limit the number of exposed screws and brackets. Any visible screws and fasteners are powder coated to the same finish as your room. We are NOT a factory operation –we prepare and install one project at a time. Enjoy the benefits of working with The Screen Team®.