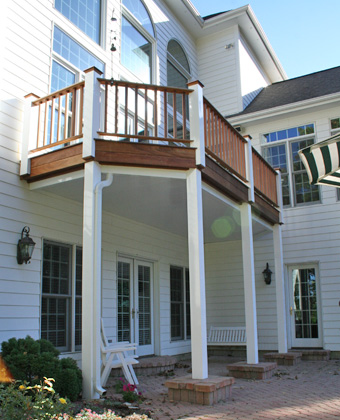 Under-deck systems are designed to drain the water away from your patio into a gutter system, helping to keep the lower area clean and dry. The under-deck system is versatile and can be designed to fit virtually every area. Heartlands' under-deck systems will add value to your patio as well as give the underside of your deck a nice, finished appearance.
Heartlands' under deck systems include the DrySnap, a heavy duty vinyl system, and Inside Out, an all-aluminum construction with a baked-on or powder coated finish. In addition, we also distribute the DuxxBak decking boards which integrates the drain channel within the actual deck board . These systems all give you the added benefit of being a low maintenance, rust proof, and affordable product that never needs to be painted. Heartlands under deck systems are available in a variety of colors and wood grain finishes.
Installing an under deck system from Heartlands to your elevated deck adds usable space under your deck. You already have this space — take advantage of it! The space under your deck can even be adapted to a screen enclosure, storage area, or just a place to sit and visit with friends and family. The under deck system from Heartlands is great as a do-it -yourself project because it requires no special tools to install. Installation from a trained member of The Screen Team® is available for our under-deck systems as well as any of the products we sell.