Kamado Joe Ceramic Grills cook on multiple levels and surfaces at the same time. You can grill, sear, and smoke your food in the same unit using lump charcoal, which gives your food a great wood-fire flavor. There are also a variety of wood chips for purchase here at Heartlands, which can enhance the flavor of your food.
Its design circulates, keeping the heat in the grill and the moisture in the meat. It also comes complete with accessories that other egg-shaped grills require for purchase. The cart, slide-out ash drawer, folding bamboo shelves, built-in thermometer, heat deflectors, and grill gripper are all included. There are a variety of accessories that can maximize your Kamado Joe cooking experience. Some include a griddle insert, a rib rack, grill rotisserie, and even a shelf/handle upgrade kit.
You can choose from the Classic II 18″, Big Joe 24″, and Joe Jr. sizes to fit your needs. Kamado Joe ceramic grills come with a lifetime warranty on the ceramic parts and free shipping on all warranty parts.
To see how a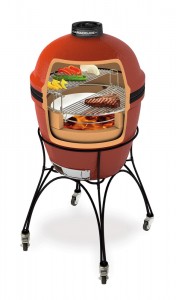 Kamado Joe grill compares to the Big Green Egg, click here.
Come see the Kamado Joe grills and all of their accessories at the Heartlands Building Company showroom: 680 Crown Industrial Ct., Chesterfield, MO 63005.