Mason Bertsch's Grilling Experience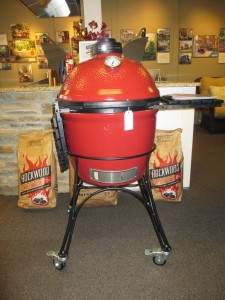 Being new to the kamado method and style of charcoal grilling, I decided to watch a few youtube videos before trying out my new Kamado Joe Classic II 18″. I thought "this can't be too hard". Well, I was wrong. It was so easy and the more I cooked on the Joe, the easier it became!
What Was Grilled
For my first time cooking on my Kamado Joe I went with chicken tenders. I chose chicken because they cook quickly and are pretty versatile. I marinated the chicken in a plastic bag with a little olive oil and the Kamado Joe Poultry Seasoning.
First I filled the charcoal bowl up to the holes and lit the fire starter square. In about 15 minutes, the coals were ready. I put the chicken on the Joe above the heat deflector and let them cook at 275 degrees. I let them cook for about 8 min on each side.
Then I invited a friend over and he brought 2 pork loin sections. He had been marinating them in some of his own seasonings. I cooked the pork loin at 275 for about an hour and half. I didn't use any smoking chips this time because I wanted to get the lump charcoal and seasoning flavors to stand out. My friend and I agreed that it was the juiciest pork loin we have had and the chicken was super tender. I over seasoned the chicken a little because I didn't realize how strong the Kamado Joe Poultry Seasoning was. The seasoning is really good, but just use it sparingly.
The Outcome
My wife and daughter are very picky and they both loved the chicken and the pork. My daughter is 2 and she will let me know if its bad, trust me! Now my wife has the plainest pallet of anyone I have met. So cooking for them and getting both to eat the same thing can be a bit of a challenge. I pleased both of them on my first try cooking on the Kamado Joe so I am impressed. I'm looking forward to exploring the possibilities that the Kamado Joe has in store and will share my adventures with you.
Mason