Mason Bertsch Shares One of His Favorite Recipes
One of our customers, Mason Bertsch, bought a Kamado Joe ceramic grill from our showroom. While here, he was able to purchase all the necessary accessories and products needed to smoke up some of his fresh caught fish! Read on to find out his process when smoking rainbow trout.
My next attempt on the Classic Joe is my new favorite. If you like to fish or have friends who are willing to share their bounty, you will appreciate this easy way to enjoy your fresh catch.
A friend of mine gave me some fresh rainbow trout he had just caught and I couldn't wait to smoke them on the Joe.
After lighting my charcoal with the Kamado Joe fire starters, I preheated it to 220 degrees. I removed the grate and threw in a couple of pieces of raw oak from my firewood pile. 
Then, I replaced the grate and added the grill expander so I would have plenty of space for all the fish. 
I removed the heads and gutted the insides, washed and dried them, and stuffed them with lemon and thyme. I brushed them all over with olive oil and seasoned with Greek seasoning. Leaving the skin on helped hold in the moisture.  I put them on the grill for two hours, flipping them just once.
They were fantastic!  The only thing I didn't enjoy was the bones but hey, with fish this good I didn't mind a few bones!
Mason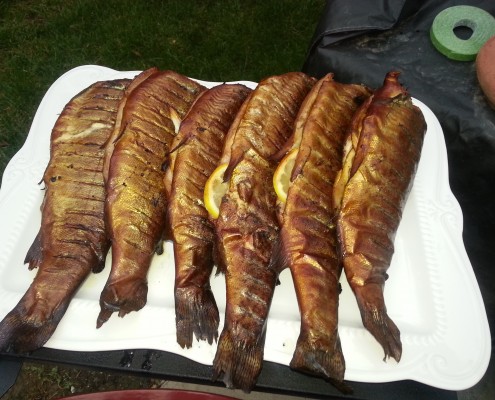 Follow Us To Stay Connected!